Distribution partners:
I have a number of inventory, export standards, we hope to find distributors.
SS304 Tie Wire PVC Coated: 10,000 Linear Meters Solid Stainless Wire, 1.0 mm Dia, SS304, with 0.5thk mm PVC Coated, Black colour.
50 bundles of 14 guage x 24" tie wires.
30K of 30" loop tie wire (16 gauge).
25kg Coil Black tie wire 4.0mm.
loop wire ties 6" 18G.
200,000 of 100mm wire tie with loop at each end.
16g (1.6mm) Stainless Steel Type 304 fully annealed 600n – 700n Wired in 1,000's.
Tie wire, galvanized, 1.5mm thick, and 450 mm long after the loop is made.
galvanize tie wire, 16ga ,18ga and 20ga and packaging 3.5lb/coil and 25kgs/coil, zinc coating 12/m2 or higher, 500 rolls.
Galvanized tie wires and PVC coated tie wires, 8 #, 10, 12, 14,16,18 & 20gauge.
2.5 & 4mm anneal tie wire. Use approx. 5t of 2.5mm & 10t of 4mm per month.
Rebar tie wire, 16.5 Gauge black annealed rebar tie wire in 3.5lb spools.
698 RL, Tie Wire, Roundbar Allum. 4 AWG, ACC Wire (16 mm).
10" Black Annealed Loop Tie Wire.
PVC COATED TIE WIRE
Core Dia: 1.0 mm +/-0.05mm Galvanized
Outer Dia: 1.3mm +/-0.05mm
Coated Thickness: 0.12mm
Coated Material: Hard Vinyl Chloride (Green Colour)
Tensile Strength: 390 –540 N/mm2
Packing : 25Kg coils PVC &Corex shield wrapped
Quantity: 37000Kgs.
PVC Coated Tie Wire in bulk quantity (1.4 / 2.0 mm)
specification is attached 150 tons per year and in bundles of 5.0kg & 10.0kg coils.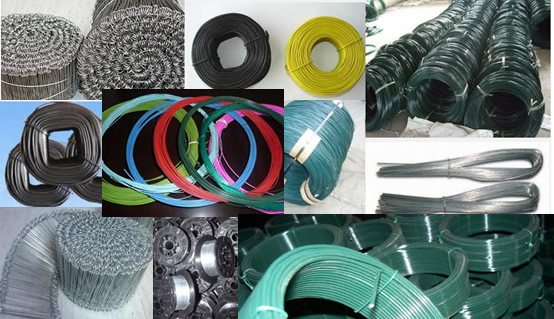 Other wire products:
Concertina Razor Tape: Galvanized Barbed Tape Concertina Roll diameter
915mm, No. of Loops 52, Extended Length 15 MR, Spacing of Loop 200-280mm,
No. of Clips 5, Spring Wire Diameter 2.50mm, Strip Thickness 0.5mm, Barb
Length 10mm, Barb Width 12mm. Barb Spacing 24mm. 62.000 coils (930,000 MR)
Barbed Wire: Galvanized barbed wire, IOWA Pattern, 2 Ply, 4 Points. Galvanized strand wire 2.50mm dia, galvanized barbing wire 2.0mm dia, spacing between barbs 101mm, supplied in reels of 100 M, sufficient for 1 row. 9.300 Reels. (930,000 MR)
Tie Wire: Galvanized + PVC coated wire 2.50mm od x 1.60mm core dia. 217,000 MR
Rod: 16mm dia x 60cm long galvanized at every 3 MR intervals.