Material of stainless steel wire: SS 201, 202, 304, 316, 321, 304L, 316L, 310, 430etc. SS 304 and 316 is the most used.
Size: diameter 0.020mm to 12.00mm
Stainless steel wire is used in weaving mesh, redrawing, soft pipe, isolation layer in kitchen, steel rope, filter material, making of spring, etc.
Packing of stainless steel wire: wood reel, in spool, plastic reel , carton, or as your requirements.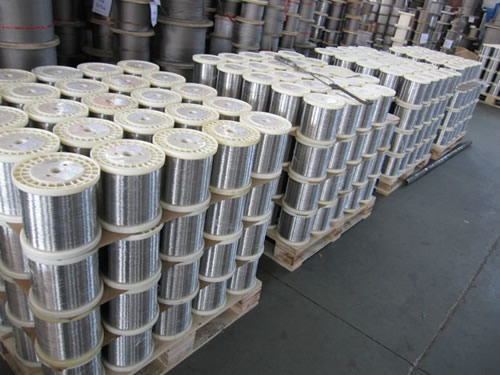 This picture is stainless steel wire packing in spool. We can also packing by your requirements.
Chemcial Compisition of Stainless Steel Wire:
Type AISI
C Max %
Mn Max %
P Max%
S Max%
Si Max%
Cr%
Ni%
Mo%
201
0.15
5.50-7.50
0.06
0.03
1
16.000-18.00
0.5
-
202
0.15
7.50-10.00
0.06
0.03
1
17.00-19.00
3.-0-5.00
-
204CU
0.08
6.5-8.5
0.06
0.03
2
16.0-17.0
1.5-3.0
-
302
0.15
2
0.045
0.03
1
17.00-19.00
8.00-10.00
-
302HQ/
0.03
2
0.045
0.02
1
17.00-19.00
9.00-10.00
-
304CU
304HC
0.04
0.80-1.70
0.04
0.015
0.3-0.6
18-19
8.5-9.5
-
303
0.07
2
0.045
0.25 Min
1
17-19
8.0-10.0
0.6
304
0.08
2
0.045
0.03
1
18.00-20.00
8.0-10.50
-
304L
0.03
2
0.045
0.03
1
18.00-20.00
8.00-12.00
-
310 S
0.055
1.5
0.04
0.005
0.7
25.0-28.0
19-22
-
314
0.25
2
0.045
0.03
1.50-3.00
23.00-26.00
19.00-22.00
-
316
0.06
2
0.045
0.03
1
16.00-18.00
10.00-14.00
2.00-3.00
316L
0.03
2
0.045
0.03
1
16.00-18.00
10.00-14.00
2.00-3.00
316Ti
0.08
2
0.045
0.03
0.75
16.00-18.00
10.00-14.00
2.00-3.00
347
0.08
2
0.045
0.03
1
17.00-19.00
9.00-13.00
-
321
0.06
2
0.045
0.01
.40-.60
17-19.00
9.4-9.6
-
ER308
0.08
2
0.045
0.03
1
17-19
9.5-13.0
-
ER308L
0.025
1.50/2.00
0.025
0.02
0.5
19.0/21.0
9.5/11.0
-
ER309
0.08
1.50/2.50
0.02
0.015
0.5
23.0/25.0
20.0/14.0
-
ER309L
0.025
1.50/2.50
0.02
0.015
0.5
23.0/25.0
12.0/14.0
-
ER316L
0.02
1.50/2.00
0.02
0.02
0.5
18.0/20.0
12.00-14.00
2.00-3.00
430L
0.03
1
0.04
0.03
1
16.00-18.00
-
434
0.08
1
0.04
0.03
1
16.00-18.00
-
0.90-1.40
Specifications of Stainless Steel Wire including Wire Diameter, Tolerance and Deviation:
| | | |
| --- | --- | --- |
| Wire Diameter(mm) | Tolerance(mm) | Max. Deviation Tolerance (mm) |
| 0.020-0.049 | +0.002 -0.001 | 0.001 |
| 0.050-0.074 | ±0.002 | 0.002 |
| 0.075-0.089 | ±0.002 | 0.002 |
| 0.090-0.109 | +0.003 -0.002 | 0.002 |
| 0.110-0.169 | ±0.003 | 0.003 |
| 0.170-0.184 | ±0.004 | 0.004 |
| 0.185-0.199 | ±0.004 | 0.004 |
| 0.200-0.299 | ±0.005 | 0.005 |
| 0.300-0.310 | ±0.006 | 0.006 |
| 0.320-0.499 | ±0.006 | 0.006 |