Vinyl Coated Steel Wire is supplied in small coils commonly. The coated wire has a thick and protective layer commonly 0.4mm to 1mm thickness. The bigger the wire diameter, the thicker the vinyl coating layer. For example: For 0.8 inner diameter wire, the coating is 0.4mm and it will be 1.2mm with the coating. But for the steel wire with a dimater of 2.5mm, the coating layer will be 1mm, then the finished coated steel wire will be 3.5mm.

Vinyl Coated Steel Wire in Colors We Can Produce
Inner Wire Material: Black Annealed Wire, Galvanized Wire, Stainless steel wire, Copper wire and so on.

Vinyl Coating Colors: Various. Popular colors include green and black for garden fencing.
Vinyl Coated Steel Wires Uses: Mainly in animal breeding, forestry protection, aquaculture, park or zoo fence and stadium as fencing wire and tie wire. Meantime PVC Coated Wires are extensively used for making Chain Link Fence, animal cultivation, freeways. It is relatively low in cost, beautiful and firmly, wear-resistant, corrosion-resistant, crack-resistant, and fire retardant possesses good insulating properties.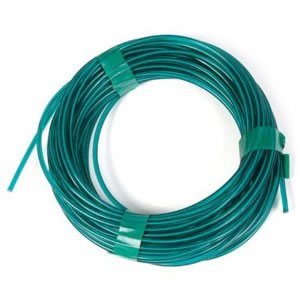 Green color Vinyl Coated Steel Wire coil
Common specification of Vinyl Coated Iron Wire with Sizes of Wire Diameter before and After Coating:
Core wire diameter

Diameter after coated

0.8mm

1.2mm

1.0mm

1.4mm

1.4mm

2.0mm

2.0mm

3.0mm

2.5mm

3.5mm

Packing:
1. lined with P.V.C strips and wrapped with PVC or hessian cloth
2. small coils of 50m, 100m, 150m, 200m, and so on
3.Color: RAL 6005, 6009 etc.
4.Diameters: many others available as per buyers' request.