Hot dipped galvanized wire is a kind of wire going through hot dipped galvanizing treatment. What is hot dipped galvanizing?
Hot-dipped galvanizing is a physical reaction. After the chlorhydric acid pool and water pool, the iron wire will go through the drying panel and then enter the zinc stove. Hot-dip galvanizing is a form of galvanization. It is the process of coating iron, steel, or aluminum with a thin zinc layer, by passing the metal through a molten bath of zinc at a temperature of around 860 °F (460 °C). When exposed to the atmosphere, the pure zinc (Zn) reacts with oxygen (O2) to form zinc oxide (ZnO), which further reacts with carbon dioxide (CO2) to form zinc carbonate(ZnCO3), a usually dull grey, fairly strong material that stops further corrosion in many circumstances, protecting the steel below from the elements.
Material : Low carbon steel wire, medium carbon steel wire and high carbon steel wire
Tensile Strength: 400--500MPA
Hot dipped iron wire Usage: It mainly used in communication equipment, medical equipment and weaving nets, brushes, cables, filters, high pressure pipe, construction, handicrafts and other industries.
Standard wire gauge: 8# - 24#.(See the below table)
Specification:
| | | |
| --- | --- | --- |
| Wire Diameter | BWG(mm) | SWG(mm) |
| 8 | 4.191 | 4.046 |
| 9 | 3.759 | 3.658 |
| 10 | 3.404 | 3.251 |
| 11 | 3.048 | 2.946 |
| 12 | 2.769 | 2.642 |
| 13 | 2.413 | 2.337 |
| 14 | 2.108 | 2.032 |
| 15 | 1.829 | 1.829 |
| 16 | 1.651 | 1.626 |
| 17 | 1.473 | 1.422 |
| 18 | 1.245 | 1.219 |
| 19 | 1.067 | 1.016 |
| 20 | 0.839 | 0.914 |
| 21 | 0.813 | 0.813 |
| 22 | 0.711 | 0.711 |
| 23 | 0.635 | 0.61 |
| 24 | 0.559 | 0.559 |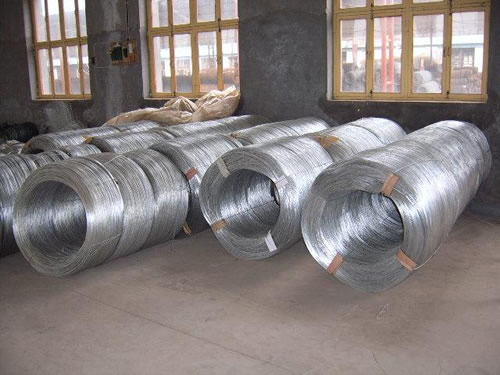 Hot Dipped Iron Wire in big packing
Production Process of Hot-dipped Galvanized Iron Wire:
Steel rod coil -- Wire Drawing -- Annealing -- Rust Removing -- Acid Washing -- Zinc Plating -- Wire Coil